Sigma Interactive PDF English Workbooks
Perfect for BYO Devices classes - [School User License Only]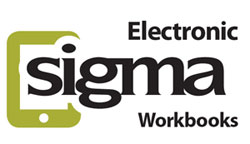 For New Zealand schools developing BYO Device classes or for those with school-provided computer hardware, Sigma can now give you access to Interactive PDF versions of our English workbooks through a SCHOOL USER LICENSE.
We offer teachers the opportunity below to download sample PDF pages from all our English workbooks. Use these samples to trial our workbooks in your school system.
Full file PDF versions of all our English workbooks will be made available to schools via a personal download web-page after they have signed up to a SCHOOL USER LICENSE. Have a look through a sample user license by clicking the downloaded below.
[Titles, year groups, curriculum levels, chapters, costs, ISBN numbers, contact phone.]
What is a School User License?
A SCHOOL USER LICENSE is a usage agreement signed between Sigma and the school. It gives a school the right to use a selected range of Sigma PDF workbooks, with a predetermined number of student users, for the period of one calendar year. Licenses must be renewed each year.
What is the cost of a Sigma PDF Workbook?
There is a large saving to be had by using electronic workbooks. For us, the costs of printing, shipping, warehousing and packing paper books are gone. So, in setting PDF workbook prices Sigma has decided to hand these savings over to their school clients. However, a minimum of 20 student users is required to set up a user license and an individualised school download page.
Action English Series : PDF Workbooks -

Only

$6.90

(GST incl) per student user, per year (books are $19.25 each) [bulk price]
NCEA Level 1 English Series : PDF Workbooks - Only

$2.30

(GST incl) per student user, per year (books are $5.00 each) [bulk price]
Can schools have a look at the PDF Workbooks?
We cannot provide schools with the entire PDF workbook as the format makes illegal use and copying too easy. Only when a signed SCHOOL USER LICENSE is in place can we give full access. We can however, provide schools with a number of sample pages from each PDF workbook. A download link for samples from each workbook can be found below next to the book cover.
What's In The Sample File?
The PDF sample file contains the contents pages and a small number of working pages. Teachers and students can use this sample PDF to trial any machines, teacher/pupil communication systems and PDF writer/editor programs that their computer classes may wish to use. If teachers wish to study the complete resource, get hold of Vanessa (0800 274 462 or enquires@sigmapublications.co.nz) and she'll send you a sample paper workbook.
What's In The Full PDF Workbook Files?
The full PDF version contains all the chapters of the paper workbook, presented computer-ready, with newly coloured photos and a revised layout adapted for use on screens. It contains HYPERLINKS for easy, two-click navigation to any page throughout the 150 page resource. Licensed schools will have a range of file types available to them for download, including the full workbook, with or without answers, and an answers-only file. Individual chapter files will also be available if there is a need to conserve memory on small devices.
We cannot provide schools with the full PDF workbook sample as the format makes illegal use and copying too easy. Only when a signed SCHOOL USER LICENSE is in place can we give you full access. We can however, provide schools with a number of sample pages from each PDF workbook. A download link for samples from each workbook can be found below next to the book cover.
How Do Students Work On The PDF Workbook Files?
To write their answers on the workbook students need to use a PDF editor program. There are many of these programs both commercial and free on the internet. The best example of a commercial program is Adobe Acrobat, while a good free editor is XODO which is available as a download or as a web app version for devices such as chromebooks and tablets. Consult an IT adviser. Many schools already have BYO Device classes and may be happy to share technical information to help you set up your system.
How Do Schools Organise a License?
Schools should contact Sigma's Distribution Manager, Vanessa Crawford (0800 274 462 or enquires@sigmapublications.co.nz) and indicate they wish to use Sigma PDF workbooks. The school contact person will be asked to collect school-wide information on the classes, syndicates or departments that wish to sign up. We need to know what titles the school wishes to use and a best estimate of the number of students that will be using each title. Sigma will then produce an individualised SCHOOL USER LICENSE, and an invoice for the fees. Schools should sign both copies of the agreement and return Sigma's copy. Payment on the invoice is due on the 20th of the month after the agreement has been signed. A signed agreement and a paid invoice means a school has established their User License and they have the right to use their specified PDF workbooks for that school year. School administration must be made aware an agreement has been signed on their behalf.
Download a sample copy of the School User License Agreement here
How Do Schools Get Hold Of The Workbook Files?
Once the school license is in place, Sigma will set up an individual download page for the school. Mounted on this page will be all the interactive files for the PDF workbooks covered in the agreement, together with a scanned copy of the agreement for teacher reference. A link to this page will be emailed to the school contact person. This link may be distributed to other user teachers. BYO Device class teachers can then visit the school's own Sigma download page, see the titles available for the current year and download the title(s) they will be using with their class(es). Distribution of the PDF workbooks to students should be done using the school's own intra-school network. The school's individual download page will remain accessible for the year covered by the agreement.
What About Next Year?
All SCHOOL USER LICENSES are for ONE YEAR ONLY. The rights given to the school to use Sigma PDF workbooks under the agreement files expire on December 31st. If the school wishes to continue using Sigma PDF resources the following year, the licensing process will have to be repeated, with titles and student user numbers redefined for the new school year and a new agreement signed and exchanged.
Users will find that all pages in Sigma's PDF workbooks are labelled with a year. PDF workbooks are only permitted to be used by the school if the year label on each page is the same as the current year. When a school renews their license for the following year they will get a new download page link on which will be mounted new workbook files showing year page labels for the new year. Schools should delete last year's files from their servers at this point. Schools are not permitted to use last years PDF workbook files, as their agreement with Sigma for use of those labelled files will have expired. Schools engaging in continued unauthorised use of last year's PDF workbooks are breaking New Zealand copyright law and are exposing themselves to prosecution.
Can Students Keep The PDF Workbook Files That They've Worked On?
Yes. Each student user will have a copy on their device of the Sigma PDF workbook they have worked on during last year. They are entitled to keep this 'worked-on' file for their own future reference. In line with your signed contract, students must not pass files on to others.
What About Teachers Copies?
For each class that uses Sigma PDF Workbooks, Sigma will allow one free teacher download. Teachers should be careful not to make their school vulnerable to copyright prosecution. The SCHOOL USER LICENSE specifically states that Sigma PDF files are write-on user files for use by the defined number of student users. Activities such as cutting and pasting material into new teaching resources, printing and distributing pages, or copying files for use by users not covered by our agreement is prohibited and violates copyright. Please play your part in helping New Zealand publishers and authors stay in business so we can continue providing our students with quality local learning resources based specifically on our own curriculum statements.
What Sigma Titles Are Available As PDF Workbooks?
All of Sigma's English workbooks (see below) are now available as interactive PDF workbooks (Action English 1 for Year 3 will be available from November 2019). This includes our best selling Action English series (workbooks Year 3 to Year 10 students), as well as the eleven titles in our NCEA Level 1 English workbook series. Various Maths titles are also being added to the range.
Any Other Questions? Wish To Get Started?
Phone us on 0800 274 462 or email enquiries@sigmapublications.co.nz and we will have the answers. Sigma PDF workbooks can be ordered any time and will be available for download in January of the year of your licence. This should allow schools time to set up intra-school BYO Device systems and to mount Sigma workbook files in preparation for the beginning of the new school year.