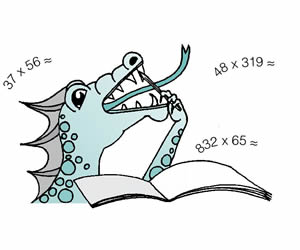 Question : 'What can I do to help my child with school work?'
Answer : 'Buy them the Sigma Maths and English workbooks for their year group online.'
Sigma workbooks are really a special find for the parent who wants a credible source of homework practice for their child. It will inspire them to practise the Maths or English they are learning at school.
Sigma workbooks can be used for revision or as extension work, depending on your child's needs. As the books work as a series, you can select the book before your child's current year group for catch-up work. If they are bored and need extending, select the title after their current year group.
What makes the books special is that you can write directly onto the book and that they have fun illustrations that bring the workbook and homework alive. It will be fun for your child to do these exercises and the outline illustrations in the primary books can even double as a colouring book for a reward once the exercises are done.
Each section of the workbook contains a worked example of the topic – that is, an example and explanation of that concept which shows how that aspect of Maths or English is used and how to do the exercises that follow. This is also excellent for the parent to understand what concept the exercises are practising.
People often look for homework help such as algebra worksheets or fractions worksheets, but Sigma Books provide something even better: For your English study and Maths practice, these write on workbooks provide a year's worth of exercises and activities that practice and reinforce all topics of the New Zealand Maths and English curriculum for that school year. Additionally, since our Dragon Maths and Action English series follow the NZ curriculum, they can also help the students improve their numeracy skills and literacy skills to attain better National Standards results.

Question : 'How do I select the right Sigma workbooks for my child?'
If learning is to occur it is essential that teaching resources are carefully matched with a child's ability. The great part of the Sigma Publications range of English and Maths write-on homework books is that they are written in a sequential series. Each title dovetails with the workbooks above and below it, so there is always a book to fit your child's requirements.
How to find the right book? The first step is to identify the Year Group your child is in at school (not their age). All Sigma's workbooks carry a school Year Group recommendation based on the section of the curriculum the author aimed at when writing it. However, children do not learn at the same rate. If you child has missed some classes, changed schools or needs to revise the level before, you can select the book in the series for the year before.  Or is you wish to extend your child you can select the book of the year after in the series.
 A rule of thumb is to start with the workbook recommended for their school Year Group. If they need remedial work - choose a title one down in the series; if you are seeking advanced material - choose one title up. 
At any given time in their education a student may be ahead, behind or alongside the majority of their classmates. Their teacher is the best judge of this – ask them for advice, or ask us, most of our staff are trained teachers, ph 0800 274 462.
See also "Use as Sequential Series"
How to Order
Order straight from the website, either from the overview pages, the specific school level pages, or from the book details pages themselves
Phone Sigma on FREE PHONE 0800 274 462 for book selection advice